Where have all the good lights gone?!
We're trying to replace the ugly ugly ceiling fan in the living room but we can't find a single thing we agree on.
This picture is (obviously) from Christmas and before the Hutch. I drew it in to remind you ;)
The only thing we've vaguely liked (okay I've liked) is the Eden pendent from CB2.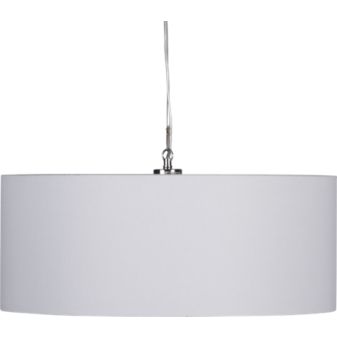 Seen here all hiked up like we'd need it to be:
But it's not LOVE.
Our problem is that I've heard the Eden pendant has only meh light-output. Our living room is 18x18 and needs a bit of oomph and oh-my-gosh-is-that-the-rapture-or-just-your-light shazam?! It also has to be a ceiling hugger... we walk underneath it every day. I'm not against a good looking ceiling fan either... they seem to have lots of wattage abilities.
So, has anyone seen any flushmount/semi flushmount/ or adjustable pendant lights that would fit in with our room? .... I should clarify that we are broke, no $973888846 figures please ;)